60 years ago, at a poetry evening at the Town Hall Theater in Berkeley, a poem was read from the stage that changed American literature, and then the whole world – "Howl" by Allen Ginsberg. But is there really a need for a reason to write about this very important period in literature? The Beat period not only made modern poetry the way we see it, but even influenced music. Today we take a look at the history of the beat generation – in dates, numbers, faces and the most important aspects. Briefly and to the point.
What is it?
Let's start with the basics: what are your beatniks anyway? The term "The Beat Generation" refers generally to a group of mid-twentieth century American writers. Beatniks have their roots in 1940s America, New York and San Francisco, are the beating hearts of this generation.
By the way, about beating hearts. Where did this name - "Beat Generation" come from? It's simple: in 1948, this term was used by Jack Kerouac, the direct representative of the beatniks, in this way to characterize the New York underground – a special social layer, a non-conformist youth movement. "Beat" in this name is a rhythm that is both dull, desperate and tired, but at the same time meditative, leading to enlightenment. In the slang of jazz musicians of the 40s, "beat" just meant "despair". Enlightenment, by the way, is not accidental here either: the passion for Buddhism was the hallmark of all beatniks.

In general, the beat movement is a purely national phenomenon that would not happen anywhere except in America. The beatniks inherit specific literary elements – stories of frontier conquest, special poetry of Whitman, cheap noir novels from Chicago, and everything that we unmistakably recognize as American literature.
When is that?
So America after the 1940s, the post-war period, general doubts about mainstream politics and culture. The Second World War resulted in unimaginable disappointment in humanity. Holocaust, Hiroshima and Nagasaki, Cold War... No one in the world could be the same anymore. Along with the economic boom, the United States faced a McCarthy witch-hunt, cultural and political repression, followed by equally important social changes. All kinds of civil rights movements are on the rise, with the Brown v. Board of Education case and the Rosa Parks case and the bus strikes in the fight for black rights. Social life around is in full swing, and beatniks are born in this cauldron.

Like this?
Thus, beat poetry has become a real chronicle of America in the 40s and 70s. All the problems and concerns of those times, all the little things and details of everyday life, people's attitudes to life and to each other, the whole America in a few lines, and at the same time – a protest against this very America. Together with the bit generation, the term "counterculture" appears. Imagine a classic American of those years, add the particle "not" to each characteristic, and you get no less classic beatnik. Where it was supposed to have a house in the suburbs with a green lawn, the beatniks bought a trailer and went to travel along the endless roads of America. Where it was necessary to go to church on Sundays, the beatniks turned to Buddhism. Where it was customary to start a strong family and all go in for sports in the morning, the beatniks went into promiscuity and looked for themselves in drug trips. They were children of their era and its complete opposite, and therefore their work is its flawless embodiment.
What if you are frustrated with the government and the people around you? Of course, to challenge the public, tradition and classical poetry - the louder the better.
By the mid-1950s, the beatniks were taking over the cultural avant-garde against institutionalized American values, materialism, and conformity. This specific social struggle is central to their work. Criticism of everything sore – what could be better? Is that complete enlightenment – as opposed to all the negativity. Hence the aforementioned Buddhism, meditation, Eastern philosophy, and also hallucinogens. Because on the path to enlightenment, all means are good.

The challenge is thrown not only in the provocative themes of the works, but also in their very form. There is nothing better for the beatniks than free verse. They strive to write as freely and authentically as possible - down with all the framework and traditional foundations, they have no place in creativity! "The first thought is the best thought" – this is how one of the key poets of the beat generation, Allen Ginsberg, described the method of spontaneous writing.
So, the beatniks sought to expand their consciousness, using all available methods for this – hallucinogenic drugs, meditation, free relationships and unity with nature. They drew inspiration from jazz musicians, surrealists, metaphysical poets, visionary poets such as William Blake, and oriental poetry – haiku. Freedom and true natural savagery, unmatched in post-war literature, was felt in every line of the beatniks' works.
Who is it?
Let's go over the significant figures in the beat generation (mainly poetry, for a softer start) and at the same time recommend that you can read this from them. We recommend looking for poetry, biographies and even literary essays of the beat movement in the book "Anthology of Beat Poetry" – the most complete poetry collection of this direction with worthy translations and an inimitable original attached.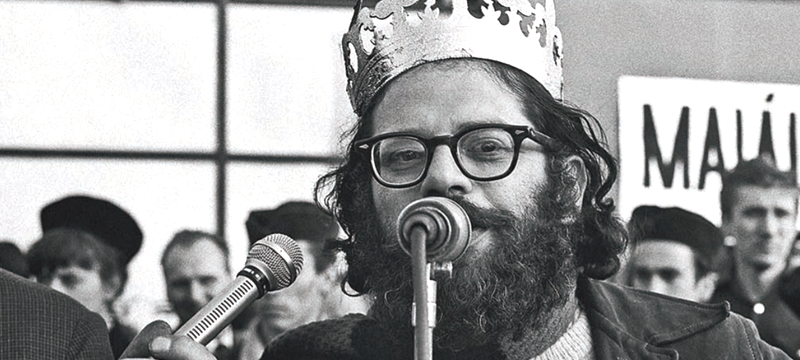 Ginsberg was an exceptionally flamboyant poet, the true heir to Walt Whitman, the most influential author of his time. There were no taboo topics for him: from the bombing of Nagasaki and the Cold War to simple human love and Whitman again – Ginsberg lifted everything from non-standard sides, frankly, openly, so that the lines burned into the heart of the reader, so that after reading it would take his breath away. His work "Howl" is one of the most important milestones in the history of beat poetry. The poem turned out to be so loud, frank and shocking that after its publication in 1956, the publisher of the book, another beatnik poet Lawrence Ferlinghetti, was arrested: he was accused of extreme obscenity. However, this case attracted even more attention not only to the poem, but to the entire generation. By the way, Ferlinghetti won the trial. And this victory was another challenge to America's moralistic laws.
What to read: you probably already wanted to read that very "Howl" – an expressive, loud, bright, almost a hymn, almost a confession. You have to find out what's wrong with him. However, we also recommend that you familiarize yourself with the work "Supermarket in California": the very thing to snort at the capitalists.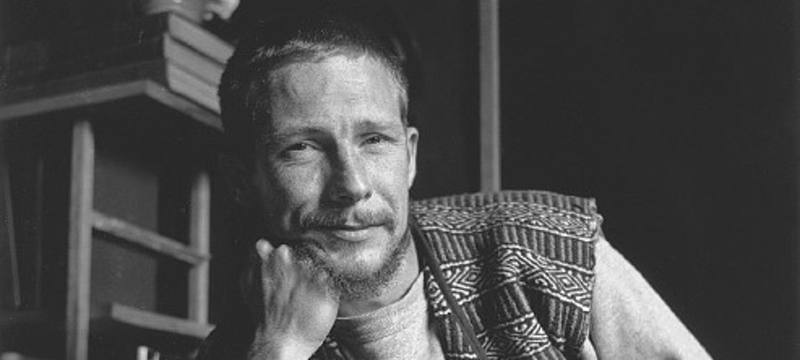 Infused with the beatniks in the 1950s and became a kind of Buddhist beacon. His work focuses on finding a balance between reality and its inner understanding. Each poem is like a meditation, each line is a step to an imaginary temple. Actually, he led a very Buddhist lifestyle, simple and unassuming, and this at one time impressed Jack Kerouac so much that Gary Snyder was the prototype of the protagonist in his book "Dharma Drivers". In addition to the strong influence of Eastern philosophy, in the works of Snyder, there is a special attention to nature, environmental issues and the relationship between man and the outside world. By the way, he himself was reluctant to call himself a beatnik.
What to read: of course, the work that brought Snyder literary fame and forever inscribed him in the circle of beatniks, no matter what he himself said – "Berry Feast." Another charming piece is Paiute Creek; feels like a mountain walk alone.

One of the key female figures in the beatnik movement. In 1958 she released her first collection, This Bird Flies Backward, and then it started spinning. She began to collaborate with fellow poet Leroy Jones and publish a monthly magazine that published the work of Beatniks, both by novice authors and famous guys like Burroughs and Kerouac. Her poetry is surprisingly personal for the beat movement: in her poems, Diana talks about her relationships, changes in life, about what worries, but all this is in a unique Beatnik style, meditative and rhythmic, with notes of Eastern philosophy. There were no forbidden topics or frameworks for her. Pure art.
What to read: "Coming out of the copper furnace", of course. A heartfelt and painful story of the poet's personal experiences on a rather non-standard topic of abortion and regrets – and their absence. If you are in no hurry to break your heart and enter an almost catatonic stupor, then it is better to start with the work "Window".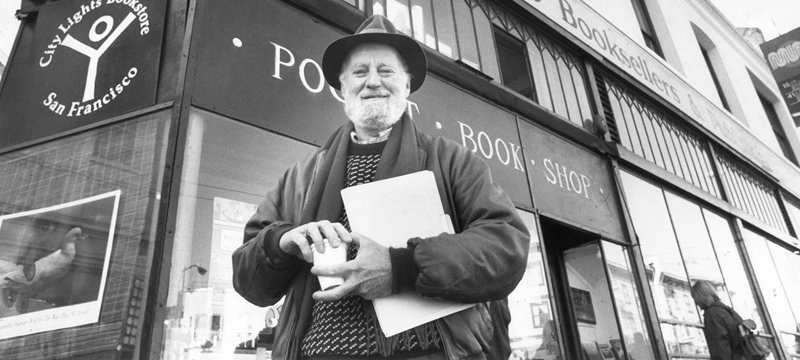 Remember who was arrested for publishing Ginsberg's Howl? Yeah, Lawrence Ferlinghetti. He opened the famous City Lights bookstore, literary magazine and publishing house, but at the same time he was a true poet himself. More than thirty collections of poetry, novels, plays, short stories and screenplays - incredible productivity. His poetry absorbed things so everyday and everyday that we completely stopped noticing them: conversations during a walk, anxieties and hopes, city billboards and familiar landscapes – everything that merges into one continuous everyday life for us, Ferlinghetti turned into unforgettable works. He captured the spontaneous and creative in every day – and he did it masterfully.
What to read: Try starting with "In the Park of the Golden Gate on this day" or "Thundering dark winter in Paris." Not as loudly and frankly as Ginsberg, but no less deep and heartfelt. The visuals are charming.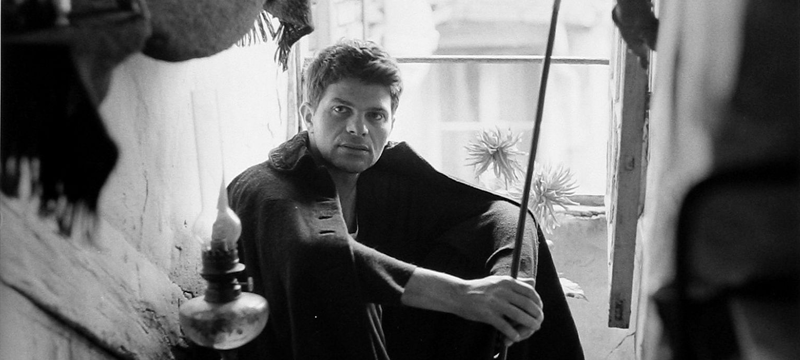 Ginsberg described him as "awakening youth": so much alive was Corso himself and his poetry. Italian roots made him expressive, and a difficult childhood at first led to the slippery path of crime: at the age of 17, he was sentenced to three years for stealing a car. However, this was in some way beneficial: in the prison library, Corso eagerly devoured all the books on his way and decided to try his hand at poetry. He unofficially attended lectures at Harvard and New York State University, participated in underground poetry readings, and turned his every action into a performance. Corso's poetry is in full swing, even when it is deeply tragic.
What to read: an unconditional recommendation ­– "Complete disorder ... almost": about the most important things in life and, finally, about getting rid of them. Another excellent piece is "In the Rapid Hand of Time", somewhat more serious, with an entertaining imagery and a wonderful rhythm.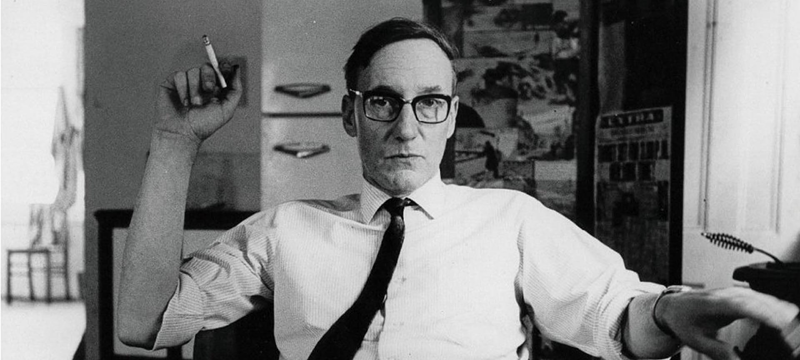 With poetry sorted out, it's time to finally look at beatnic prose, and Burroughs is one of its pillars. The man is a little more than controversial: what is one case when, in a drunken stupor playing William Tell, he accidentally shot his young wife Joan Volmer. This terrible tragedy was a watershed moment for Burroughs – and made him a writer. Creativity turned for him into getting rid of obsession: from now on, he poured all his experiences on paper, not shying away from "forbidden" topics and speaking about everything frankly. This was also the first work of "Junkie". For his most famous novel, The Naked Lunch, Burroughs, of course, managed to get on trial on obscenity charges. However, after lengthy proceedings, the charges were dropped. This work is undoubtedly very unusual for its time: "Naked Lunch" combines a cut from the chronicles of the writer's heroin addiction, his fabrications and narcotic images of Tangier, a city in Morocco known as a hot spot for everyone who was rejected by America. This novel is written in a very specific manner – "cut method". The essence of the method is simple: the writer in his many travels carried a notebook lined with three columns. In the first, he wrote down facts about what was happening, in the second – personal impressions and thoughts, and in the last – quotes from books that Burroughs was reading at that moment. From all these materials, the novel was formed - dynamic and much more integral than it seems at first glance.
What to Read: "Naked Lunch" – if you have the determination for this frankly difficult piece. Otherwise, you can start with verses (yes, he also wrote them) – "Where the flesh circulates," for example.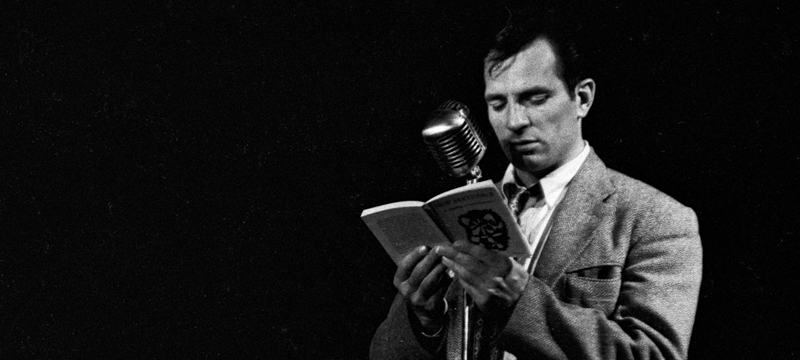 The second pillar of beatnic prose is, of course, Kerouac. He was one of the most significant writers of his time, in his work was all of America - not ostentatious, as in a tourist brochure, but alive, real, and this was delightful. From the very start, Kerouac's life was not very much like the usual path of a beat writer: he grew up in a family of a typographer, from his teenage years he published his own sports newsletter, played football and received a scholarship for this at Columbia University. Then there was an injury, the loss of a scholarship, expulsion and service on a merchant ship, and later in the army, from where he was again written off due to disagreements with his superiors. So, once on land, the eternal wanderer Kerouac takes up writing. He starts with the more classic City and Town, reminiscent of the later works of Thomas Wolfe, but soon finds his own style. His most famous novel, On the Road, is almost entirely autobiographical: two friends roam the highways of America, not thinking about lodging and food, and getting into alterations one more trenchant than the other. This is a pure "road novel", an amazing journey, after which you want to jump out of your house and hit the road. The novel is like a jazz improvisation, like a search for meaning, like an eternal journey on a rattling mustang. Its scenery is one-story America, endless highways, roadside eateries. At the same time, this is the story of the pain of a whole generation – its cry on an empty road without end and edge. After On The Road there will be Dharma Drivers (again with motives of wandering), "Maggie Cassidy" (suddenly touching about growing up and first love), "Angels of Desolation" and many more good works. Still, a bad writer is not called the "king of the beatniks".
What to read: "On the road". No options. The presentation may seem simple and straightforward, but the atmosphere of eternal running, unadorned travel, incredible freedom and, at the same time, emptiness is clearly worth your attention. If your heart longs for something calmer and more peaceful, feel free to turn to "Dharma Tramps". Or start your acquaintance with poetry – maybe you will be bribed by the jazz tunes of "Mexico City Blues".
And the final chord: you can listen to beatniks in the NLB. Not live, of course, but recordings of them reciting their own poems are available to all visitors. Ferlinghetti, Ginsberg, Corso and even Bukowski, who, although a bit late to the beatnik movement, is still pretty close. Just a dream.
Internet Portal Maintenance Department